NEC MultiSync LCD1970NX-BK 19" LCD Monitor
A large 19-inch TFT LCD monitor, the LCD1970NX from NEC incorporates quality design and the best of today's technology to deliver a display well-suited to home office and professional graphics uses alike. With its 1,280 x 1,024 maximum resolution and 0.294 mm dot pitch, on-screen images are detailed and accurate, while a 500:1 contrast ratio and 230 cd/m2 of brightness combine with over 16-million display colors to provide rich graphics and crisp text.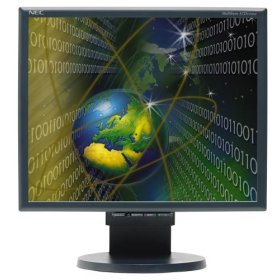 The 19-inch NEC MultiSync LCD1970NX, a flat-panel monitor featuring a thin-frame design, enhances your visual experience with superior screen performance, advanced technologies, and comforting design elements. This model's Ambix dual-input technology ensures compatibility with today and tomorrow's computer systems, while XtraView technology provides for some of the widest-angle views available.
XtraView technology provides wide 176-degree horizontal and vertical viewing angles, an excellent range of visual clarity that allows you to see the screen from nearly anywhere in the room. Both analog and digital DVI signals are supported, allowing connection with standard or advanced graphics cards, while a built-in USB hub provides the means to conveniently connect peripherals. With a 25 ms response time (rise and fall), you can rest assured that motion video is reproduced with reasonable smoothness, and a video mode enhances contrast to provide a more dynamic and rich viewing experience.
Monitor settings are easy to adjust with the easy-to-use on-screen display menu, which features an auto-adjust function that automatically optimizes your display. The stylish thin frame makes this a good choice for multiple monitor setups, while the height adjustable stand lets you adjust monitor position to best fit your needs. A 16.2-by-8.7-inch footprint takes up much less space than a comparable CRT monitor, and VESA wall-mount compatibility allows you to free up your desktop for other uses. Compatible with both PC and Mac operating platforms, the LCD1970NX comes backed by a three-year limited warranty.
Product Description
The 19" NEC MultiSync LCD1970NX, a flat-panel monitor, takes your visual experience to the next level of performance and enjoyment. Superior screen performance, advanced technologies and comforting design elements make this thin-frame model the centerpiece of your computer system. Dynamic Video Mode enhances contrast, while Ambix dual-input technology ensures compatibility with today's and tomorrow's computer systems. Additional features include XtraView wide-angle viewing technology, an integrated USB 2.0 hub that connects you to all of your peripherals, and NaViSet software for intuitive screen setting adjustments via mouse and keyboard.
Wide-Angle Viewing
In conventional LCDs, liquid crystals stand on end, resulting in a narrow viewing angle. Wide-angle technology lets light pass through the crystals at their most efficient orientation for a dramatically wider angle.
Features
Height-adjustable stand adds flexibility

Ambix technology provides digital/analog inputs

USB 2.0 hub gets you connected

NaViSet intuitive display settings control

See more with XtraView wide-angle viewing

Thin-frame bezel creates more space

Dynamic Video Mode enhances contrast

Rest easy with 3-year limited warranty
What's in the Box
Monitor and stand, power cord, video signal cable, user's manual, cable management cover, warranty information.