Microsoft Popfly - Online Gadget and Page Maker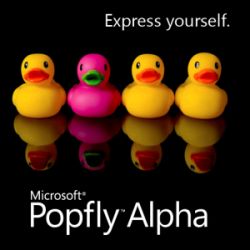 Microsoft is releasing new online live services quite frequently. It is now clear that after being the king of the desktop world Microsoft now wants to compete with Google in the online world by providing new free services online.
Microsoft Popfly
Microsoft Popfly is the new technology of Microsoft which helps you create and share mashups, gadgets, web pages and even applications online. The main purpose of this service is to give the opportunity to everyone to build and share their ideas even without any programming knowledge.
Popfly Creator and Popfly Space
Microsoft Popfly mainly consists of two parts:
Popfly Creator is a set of online visual tools which help users to create mashups, gadgets, web pages or even applications online without the need to know any programming language.
Popfly Space on the other hand is an online community where you can save, share and discuss about different gadgets or mashups that you have or other Popfly users have created.
Microsoft Popfly Features
Easy to use workspace with added drag-and-drop functionality
Integrated tutorials to help you you things which you don't know
Full customizable HTML with advanced and novice user support
Design your pages visually just like Microsoft Live Web Designer
Customize your pages, mahups or gadgets as you like
Connect with other creators and share your gadgets and pages
You can download cool Microsoft Popfly Desktop Backgrounds.
It is good to see that Microsoft is expanding its product line quite frequently but the fact that all of their services have a lot of issues still haunt me. Google on the other hand tests and launched the services when they are fully functional. However Microsoft seems to be obsessed more with the BETA trend and no doubt that is the reason their services don't live up to the users anticipations.