Top 5 Electric Scooters To Buy In India 2022
Electric Scooters and Electric Bikes are the talks of the town today because of their various benefits. The most important benefit is fuel savings. Besides, electric scooters help in the reduction of CO2 gas emissions which in turn keeps the environment greener. Also, the government has come up with tax rebates & other benefits on this environment-friendly initiative by many companies. The initial investment is a bit high, but in the long run, it promises to be fruitful. If you are looking for them then here is a list of the Top 10 Best Electric Scooters in India you can buy in 2022.
Top 5 Best Electric Scooters in India 2022
As petrol prices continue to take upward leaps across the country, electric vehicles are quickly becoming a suitable alternative for many middle-class households in India. The increasing air pollution is also a major factor in making electric vehicles and two-wheelers being promoted strongly by the various companies. Read in detail about the top 5 electric scooters to buy in India in 2022 to save big on the rising petrol costs.
1. Simple Energy ONE
Bengaluru-based EV startup Simple Energy has launched the Simple ONE electric scooter on August 15, 2021. It has got things required to be a True Electric Scooter namely, an aggressive 8.5kW electric motor, 72 Nm peak torque, and high acceleration. Thus, it makes it to the top spot in this list of Best Electric Scooters in India. The Simple ONE sources its juice from a 4.8kWh lithium-ion battery and claims to offer a range of 240km in Eco mode. The top speed will be limited to 100kmph, and it can sprint from 0-50kmph in just 3.6 seconds.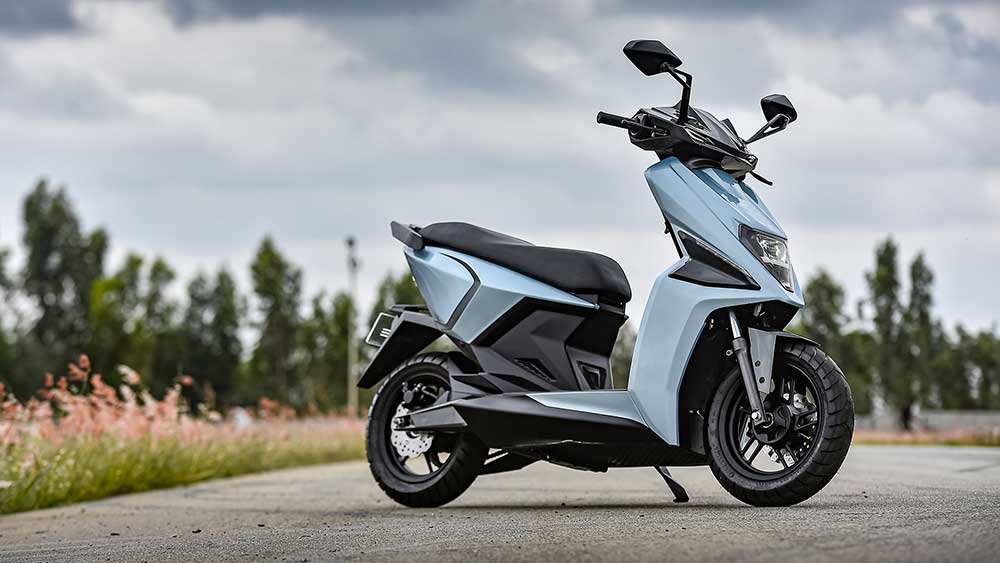 The Simple ONE will feature 30-liter under-seat storage space, the largest in the premium segment, and a large 4.8kWh battery pack. Claims include a 240km range in economy mode and a 100kph top speed. The ONE seems to be on par in the features department too, coming with a touchscreen that features Bluetooth connectivity and navigation.
Moreover, the brand will also launch its fast charger setup known as the Simple Loop. The EV maker claims it to be capable of charging the battery for up to 2.5km in just one minute. Simple will deploy more than 300 of these fast chargers throughout India in the coming months and it will be convenient to use for all kinds of electric scooters. Simple Energy is planning to set up a new factory in Hosur with a planned annual capacity of 1 million units.
Specifications
| | |
| --- | --- |
| Range | 236 km* |
| Acceleration | 0-40 in 2.95s* |
| Battery Capacity | 4.8 KWh* |
| Torque | 72 Nm* |
| Nominal Power | 4.5 KW* |
| Top Speed | 105 Km/h* |
| Boot Space | 30 liters |
| Kerb Weight | 110 Kg* |
| Tire Size | 12 inches |
Features
Simple Energy has equipped the Simple One with LED headlights, a 7-inch instrument console, and Bluetooth navigation. Moreover, you can also take phone calls, listen to music, and even store documents. Not just that, the Simple One also gets OTA updates, geo-fencing, a tyre pressure monitoring system, and vehicle tracking among other things. Connectivity provisions include a 4G LTE sim and Bluetooth. The Simple One gets a 30-liter under-seat storage capacity and weighs 110kg. With the simple one app, you are always one tap away from your next expedition. You can customize your feed and see only what you want to see.
Remote access
OTA updates
Ride statistics
Geo-fencing for security
Save and forward routes.
Remote locking feature.
The Loop network allows you to stay charged on the go. Plug it at a convenient location, grab a cup of coffee, and get back on the road.
Simple Energy ONE Price
Simple Energy One price starts at Rs. 1.09 Lakh (Ex-Showroom). It is offered in only one variant - STD.
| Variants | Ex-Showroom Price |
| --- | --- |
| One STD | Rs. 89,999 |
Drawbacks
None in particular
2. Ather 450X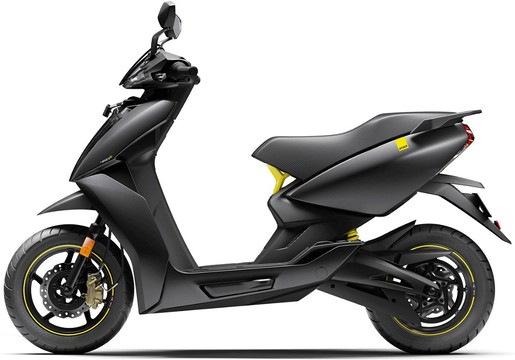 Ather 450X is a stylish, lucrative, and Smart Electric Scooter.
Specifications
The Ather 450X electric scooter shows you trip details, park assist, speed insights, and more with its touchscreen smart display. Moreover, it has got disk brakes on both wheels. Also, it is light in weight for easy handling.
| | |
| --- | --- |
| Models | Space Grey | White | Mint Green | Series 1 (limited edition) |
| Smart Display (speed-o-meter) | 7-inch Touchscreen LCD Display |
| Top Speed | 80 km/hr |
| Certified Range (distance covered in single charge) | 116 km |
| True Range | 85 km (eco) | 70 km (ride) | 60 km (sports) |
| Driving Modes | ECO | RIDE | SPORTS |
| Battery | 2.9 kWh Lithium-ion Battery Pack | 3 Yrs Warranty | IP67 Water Resistant & Dust Proof |
| Boot Space | 22 L |
| Charging Options | Ather Dot (home) | Ather Grid (away) | Portable Charger at 5A Plug Point (away) |
| Charging Time | 4 hrs | 0-80% in 3 hr 35 min |
| Fast Charging | 15 km in 10 mins (at Ather Grid) |
| Peak Power | 6 kW or 6000 W |
| Bluetooth Connectivity | Yes |
| Warranty | 3 Yrs on Vehicle, Battery, Ather Dot, and Portable Charger |
Features
The Ather 450X is power-packed with smart & energetic features. It has got GPS, Bluetooth, Calling & Music control, and much more. It has got the best-in-class speed which reaches a maximum of 80 km/h.
Google Maps Navigation, Music & Call Controls, Nearest Charging Point details, and more on Smart Display.
Reaches 0-40 km/h speed in 3.3 seconds.
True Electric Scooter: 6kW PMS Motor with 26 Nm of instant Torque and addictive Acceleration.
Centrally mounted mono-shock suspension (backside).
Reverse Mode Assistance for slopes, parking, and uneven terrains.
Ather App for checking charging status, scooter statistics (monthly riding reports), and other important data.
Side-stand Sensors, Incognito Mode, and Guide-me-home Lights.
Has got many Ather Grid (public charging network) points in Bangalore, Chennai, Pune, and Hyderabad. It promises a charging point every 4 km.
Ather 450X Price
The Ather 450X is priced at around 1 Lakh 45 Thousand rupees in India. This price includes an Ather Dot or a Portable Charger. You can buy this scooter on Loan or Lease. You can Book the Ather 450X Electric Scooter for Rs 2500 (refundable) online. Also, you can test-drive it.
| | |
| --- | --- |
| City | Ather 450X Price |
| Bengaluru | 1,44,500 |
| Hyderabad | 1,46,926 |
| Chennai | 1,46,296 |
| Ahmedabad | 1,26,926 |
| Mumbai | 1,42,241 |
Drawback
One major drawback for the Ather 450X electric scooter is the charging points. It has got Ather Grid in Bangalore, Chennai, Pune, and Hyderabad only. The company says to be working on expanding it to Ahmedabad, Coimbatore, Kochi, Kolkata, Mumbai, and NCR. A great thing here is that other electric vehicles (from different companies) can also charge at Ather Grid.
3. Ola S1 and S1 Pro
The Ola S1 and Ola S1 Pro electric scooters were launched on 15 August 2021 in India. They come in 10 colors with digital technology in-built. Moreover, the company has the largest charging network in Ola Hypercharger across the country. Thus, grabs the 2nd spot on our list of Best Electric Scooters.
Specifications
The Ola S1 Pro comes with industry-leading specs like 115 km/h of top speed, 181 km of range, and an 8000W powerful motor. It has many automatic features which make your work too easy.
| | |
| --- | --- |
| Top Speed | 115 km/hr |
| Certified Range (distance covered in single charge) | 191 km |
| True Range | 181 km |
| Models | 10 Colors with Glossy & Matte Finishes |
| Display (speed-o-meter) | Touchscreen Digital Controller & Informer |
| Processor | 1.8 GHz Octa-core |
| Display Size | 7-inch |
| RAM | 3GB |
| Connectivity | Bluetooth | GPS | LTE |
| Fast Charge | 18 mins for 75 km (Ola Hypercharger) |
| Peak Power | 8.5 kW or 8000 W |
| Peak Torque | 58 Nm |
| Boot Space | 36 L |
| Modes | NORMAL | SPORTS | HYPER |
Features
The Ola S1 Pro comes with breathtaking features like voice control, mobile control, automatic alerts, reverse mode, wireless communication, and more. Additionally, the Ola Futurefactory (electric vehicle manufacturing unit) will add more in the future.
Large boot space (36 L) which fits in 2 helmets or a week's groceries.
Iconic headlamp with 2 projectors.
Boosts from 0-40 km/h in just 3 seconds.
Proximity Lock & Unlock Sensors: When you are approaching your scooter it automatically unlocks, and locks when you leave it.
Voice Control for Music, Navigation, and Calling. Just say "Hey Ola".
Various themes (moods) and widgets are available on Digital Screen (speed-o-meter) for a fresh experience every time.
Flash Widget: Includes your most-used apps like calling and navigation for quick access.
Mobile Control: Charging Status, Locate Your Scooter, Lock, Unlock, and more.
Call receive & decline hardware buttons in the front. Moreover, you can send messages and share locations from the screen.
Smart Alerts: Side-stand alert, tamper alert (when someone tries to harm/damage your scooter), and SOS alert (ex: your scooter crosses the area limit).
Its touchscreen backend has an octa-core processor for fast & easy operations. Moreover, it has BLE for fine wireless communication.
Speed Control Button which drives automatically at a selected speed.
Promises excellent power, endurance, stability, and handling.
Reverse Mode drives your scooter backward which is of great help during slope and parking situations.
Disc Brakes on both wheels. Mono-shock suspension on the backside. Also includes Superior Chassis.
Superior Alloy Wheels, Fluid Design, and Monocoloured Panels.
Won the German Design Award 2020.
Includes grab rail, sidestep, and sculpted seat.
Promises 43% savings compared to Petrol Scooter.
Ola Hypercharger: The world's largest two-wheeler electric charging network. It covers 400 cities with 100K+ charging points and fast charging (75 km in 18 min).
Ola S1 & S1 Pro Price
You can reserve the Ola S1 and Ola S1 Pro electric scooter online for Rs 499. The deliveries of these e-scooters will start in December 2021. Check the Ola S1 & S1 Pro expected price in India below.
| | | |
| --- | --- | --- |
| City | Ola S1 Price | Ola S1 Pro Price |
| Delhi | 85,099 | 1,10,149 |
| Gujarat | 79,999 | 1,09,999 |
| Maharashtra | 94,999 | 1,24,999 |
| Rajasthan | 89,968 | 1,19,138 |
| All Other States | 99,999 | 1,29,999 |
Drawback
The Ola Electric Scooter is relatively new in the market so we will have to wait and see how it performs in the long run. As of now, there are no known drawbacks of the Ola S1 and S1 Pro electric scooters. Considering the company's fundamentals, mission, and vision, it is likely to do well in the future.
4. TVS iQube Electric
The TVS iQube Electric Scooter is among the premium electric scooters in India and also one of the top electric scooters in India. It has got some breathtaking features and specs namely, 140 Nm torque, powerful motor, smart mobile connect, and smart alerts.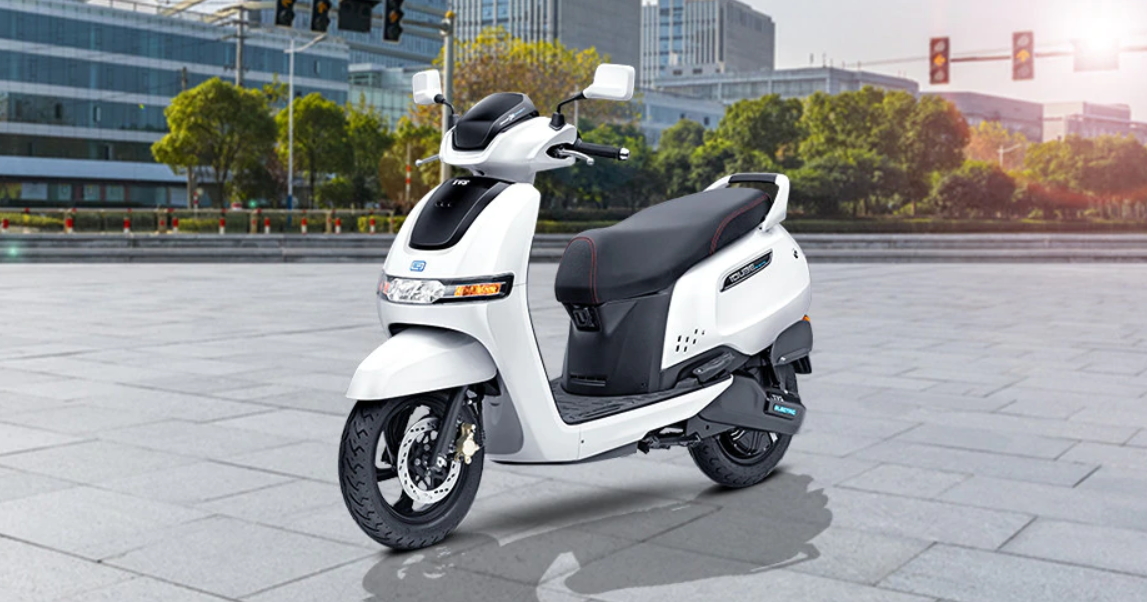 TVS iQube scooter is available at a price of Rs. 1.00 Lakh in India. It is available in only one variant and It is available in only in White color. iQube Electric goes 75km in a single charge. The TVS iQube Electric gets disc brakes in the front and drum brakes at the rear. The TVS iQube Electric weighs 118 kg.
Specifications
| | |
| --- | --- |
| Range | 75 km (ECO mode) |
| Top Speed | 78 km/h |
| Gradeability | 10 Degrees |
| Tyres | 12-inch Tubeless |
| Scooter Weight | 118 kg |
| Peak Wheel Torque | 140 Nm |
| Modes | ECO | POWER |
| Warranty | 3 Yrs (or 50,000 km) on Vehicle and Motor |
Features
Crystal-clear LED Headlamps.
All LED Taillamps.
Q-Parking Assist (front & reverse).
USB Charging Point with Light in the Dicky.
IP67 Water & Dust Resistance.
TVS iQube App for smart monitoring.
Next-Gen TFT Dashboard (speed-o-meter): navigation assistant, remote charging status, geofencing, call alerts, and smart statistics (locate service station, energy savings,
distance, and more).
TVS says that it will save you Rs 64,000 (excluding GST) in the next 5 years compared to a petrol scooter.
Smart Xonnect (Rs 900/yr): navigation, mobile signal & battery status, call & message alerts, over-speed alert, geofencing, crash & anti-theft alert, live tracking, remote live charging status, parked location assist, and charging station locator.
TVS iQube Electric Scooter Price in India
The TVS iQube Electric Scooter is priced at Rs 1,10,506 in India. This price includes lifetime SmartXonnect basic features, 1 Yr roadside assistance, standard accessories, and 1 yr SmartXonnect advanced subscription worth Rs 900. You can Pre-book the TVS iQube Electric Scooter online for Rs 5000.
Drawback
Its SmartXonnect advanced service is based on paid subscription whereas Ola and Ather offer it for free. Another drawback is that it is available in limited cities (the company is in the works to expand it to 20 cities). Also, it has limited charging stations. However, in June 2021, TVS Electric collaborated with Convergence Energy Services Limited (CESL) to expand its charging network.
5. Boom Corbett 14-EX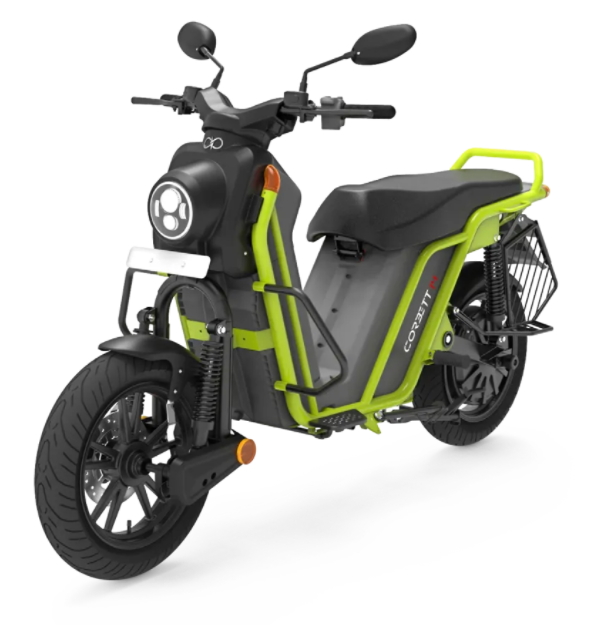 Boom Motors is an EV company based out of Coimbatore, India.
Specifications
| | |
| --- | --- |
| Motor power | 4 kW peak |
| Water and dust resistance | IP67 |
| Motors type | BLDC, hub motors |
| Battery type | Dual swappable batteries w/ IoT |
| Charger input | Household 220V, 5A, 3 pin plug |
| Top speed | 75 km/h |
| Range | 200 km |
| Capacity | 4.6 kWh |
| Charging time | 2.5-4 hrs |
| Wheel Type | 14"Alloy Wheels |
| Front/Rear Tyre size | 90/90 R14 Tubeless |
| Brake type | Combination Disc brakes |
| Front Suspension | leading link, anti-dive, 4-point adjustable |
| Rear Suspension | 4-point adjustable |
| Wheelbase | 1370 mm |
| Kerb weight | 100 kg |
| Ground clearance | 175 mm |
| Width | 850 mm |
| Loading Capacity | 200 kgs |
| Boot space | 10L |
Boom Corbett 14 Price
The price of Boom Motors Corbett 14 starts at INR 89,999 and goes up to INR 1,24,000. Boom Motors Corbett 14 is offered in 2 variants - STD and the top variant Corbett 14 EX which comes at a price tag of INR 1,24,000.
| Corbett 14 Variants | Ex-Showroom Price |
| --- | --- |
| Corbett 14 STD | 89,999 |
| Corbett 14 EX | 1,24,000 |
EV Sales Figure in India
For the first time, total EV sales in India cross 40,000-mark in a month. Registered electric vehicle sales in India continue their northward journey as total registered EV sales stood at 42,000 plus units for November 2021 when compared with about 13,000 units in November 2020 and about 39,000 units in October 2021. This is the first time that total EV volumes have crossed the 40,000-mark in a month.
The EV sales boom continues even after the festive season, indicating that the shift towards electric vehicles is gathering pace. The biggest shift is happening in the two-wheeler segment as electric two-wheelers have driven the volume growth in November 2021. Registered electric two-wheeler sales have grown more than five times at 22,450 units in November 2021 when compared with the volumes of about 4000 units in November 2020. On a month-on-month basis, electric two-wheelers grew 17 percent.
While sales of electric two-wheelers continue to surge, the robust order book of new players like Boom Motors, which has secured significant bookings for its electric bike, signals that the E2W segment may shift to an exponential growth curve.