Getting Started - Home Theater Essentials
The two basic things you need to have for your first and basic home theater are a television and a set of speakers.
The Television
In most homes, the hub of a home theater system would be the television. You definitely must own a TV, but could also intend buying a new one for your home theater. The type of television a person selects for their home theater system depends on:
Personal taste

Size of the room

Other theater equipment that will be installed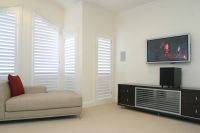 When looking for a good quality home theater television, people take all sorts of factors into account. Its important to look at the quality of the television?s picture, the color sharpness, and some of the other options available to you to see how the television fits into your theater vision overall. If the contrast on a television is too much in one direction or the other, it may be something you need to address before you make a purchase.
Multiple television options are available in the market today such as Flat screen, LCD, flat panel plasma televisions and regular tube televisions. You can easily get information on all types, which will help you in comparing the features and prices. This will help in selecting the best set for your home theater. Also, make sure that the television doesn't look too out of place or is too large or too small for the room you have selected.
Let us hear It
What! a superb picture and poor quality sound? That is what could happen if try to save a few dollars when buying your set of speakers. Instead what you need is a good set of speakers that will give you just the right effect. The market for speakers is just as complicated as the market for televisions, so talk to a professional to help establish what type of speaker setup you should have in your home and what fits best with your television. Another good option would be to actually listen to the output of various speakers. You could even take your own CDs and DVDs along!
Let the Fun Begin
The bottom line is that you want to have fun with family and friends. Your objective is to entertain yourself in the comfort of your home by installing your own home theater. That is why it should be a reflection of your tastes and wishes. In the end, despite all of the good advice, you will inevitably get from salespersons and professionals, the final product comes down to you and what you have chosen for your home. Choose wisely and enjoy the show!