Why travel to Bhutan & What to explore in Bhutan?
1. Happiness
: The Bhutan is the only country to measure GNH or Gross National Happiness as an indicator of its prosperity.
2. Traditional, Authentic, Pure, Divine
: Imagine what it is traveling in a country where the natives live in their traditions and values, the environment, legacy, and future are of utmost importance to the government and everyone looks forward to development-the cultural way? That's Bhutan!
3. Food Utopia
: A country where rice is red and chilies aren't just a seasoning but the most important ingredient. Their national dish, Ema Datshi, is a fiery blend of green chilies smothered in cheese.
4. A Cultural Legacy
: Bhutan is a land of monasteries and fortresses. Buddhism is deeply engraved in the soul of the country and is driven by interesting cultural beliefs.
5. Natural Wonders
: Experience Bhutan's natural wonder first-hand when exploring the beautiful nation. Travel across the mountain passes, dazzling with rhododendrons in spring. Trek across the mountains and witness the flora & fauna riches, unique mammals & birds protected in several national parks.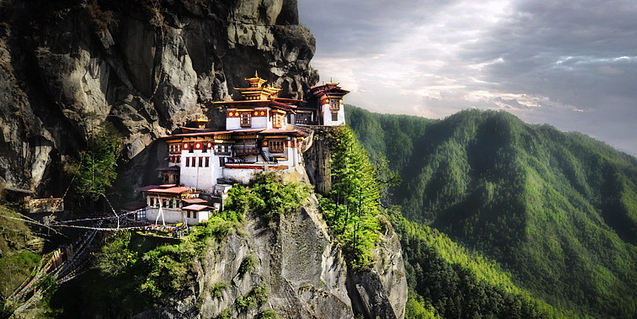 What to explore in Bhutan?
1. Thimphu
: Thimphu, Bhutan's capital, occupies a valley in the country's western interior. In addition to being the government seat, the city is known for its Buddhist sites. The massive Tashichho Dzong is a fortified monastery and government palace with gold-leaf roofs. The Memorial Chorten, a whitewashed structure with a gold spire, is a revered Buddhist shrine dedicated to Bhutan's third king, Jigme Dorji Wangchuck.
2. Punakha
: Punakha is a town in the Himalayas of Bhutan. It's known for the Punakha Dzong, a 17th-century fortress at the juncture of the Pho and Mo Chhu rivers. The fortress hosts the Punakha Tshechu, a religious festival featuring masked dances and music. In the surrounding Punakha Valley, temples include the fertility-focused Chimi Lhakhang and the hilltop Khamsum Yulley Namgyal Chorten, which has river and mountain views.
3. Paro
: Paro is a valley town in Bhutan, west of the capital, Thimphu. It is the site of the country's only international airport and is also known for the many sacred sites in the area. North of town, the Taktsang Palphug (Tiger's Nest) monastery clings to cliffs above the forested Paro Valley. Northwest of here are the remains of a defensive fortress, Drukgyel Dzong, dating from the 17th century.